---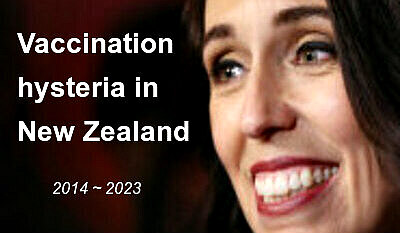 ---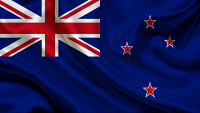 A cursory review of news reports and comments on the subject of infectious disease reveals that New Zealand's trumpeted "Covid response" was the crest of a wave of hysteria that had been building since 2014 — if not earlier. Note the final sentence of the Manawatu Standard's editorial of February 27, 2014: "We're not saying parents should be shamed into a greater awareness about vaccine preventative illnesses, but it couldn't hurt to scare them a little." Needless to say, scaring people into changing the course of their lives is the definition of terrorism. — https://vaxnix.com, "Sticking it to vaccines".

---
Gaslighting: 'No one forced you to get vaccinated'
September 4, 2023: "No one is prepared to shoulder any blame whatsoever or make up for past mistakes." — Guy Hatchard in his newsletter of September 6.
---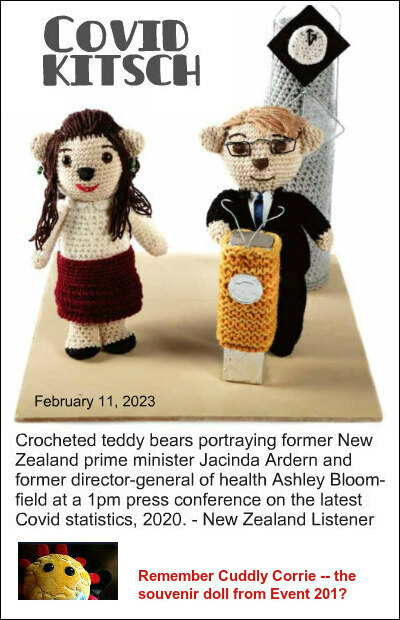 ---
New Zealand bids goodbye to giggles and grimaces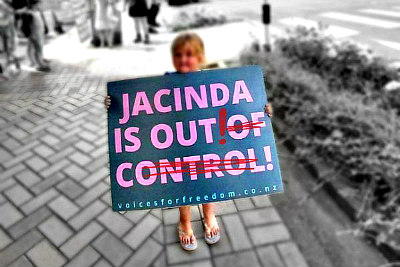 January 19, 2023: Jacinda Ardern announces her resignation.
---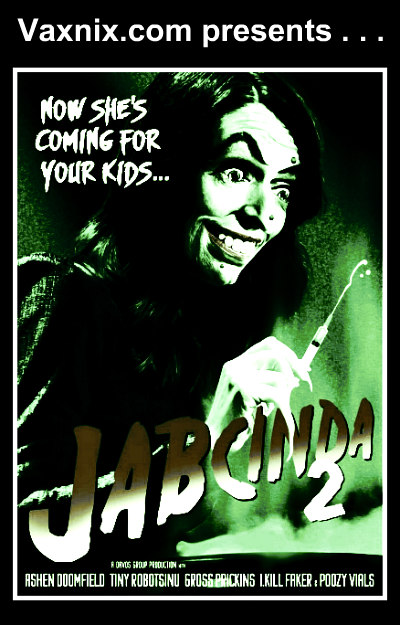 ---
Studies show Covid vax has 'no effect on fertility'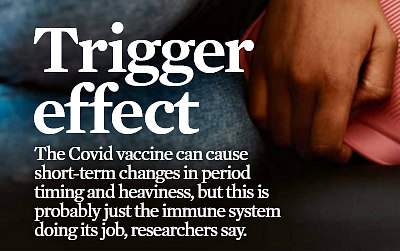 January 14, 2023: Nothing to see, folks. Move along now . . . Or read the incredible article in the New Zealand Listener

here.
---
Here comes Krazy Kraken to give you the creeps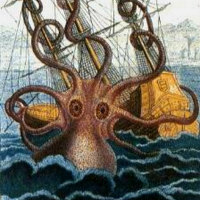 January 10, 2023: "The new subvariant of the Covid-19 Omicron virus variant has been detected in New Zealand, the Ministry of Health says. XBB.1.5, known as Kraken, has been found in two people after whole-genome sequencing conducted by the Institute of Environmental Science and Research (ESR) last week." The full Manawatu Standard article is here.

---
Covid vaccines 'have been a triumph of science'

December 24, 2022:
"But the efficacy of successive boosters, especially for those who . . . have recovered from a previous infection? It's unclear . . .." The full
New Zealand Listener
column by Russell Brown is
here
.
---
Memorial Day: Vax victims will be 'silent no more'
December 18, 2022: Documentary reveals the callous response.
---
Baby Will: Parents speak in wake of kidnapping
December 8, 2022: Will untainted blood be used after all?
---
The contaminated blood scandal in Australasia
December 7, 2022: Liz Gunn speaks with Chales MacKenzie, president of the organization Infected Blood Australia.
---
NZ Police do the tyrant's dirty work . . . again
December 8, 2022: Police kidnap Baby Will prior to operation.
---
Dr Jane Ruby Show picks up the Baby Will story
December 7, 2022: 'Transfusions a new form of the bioweapon.'
---
Baby Will: Herald details some of the arguments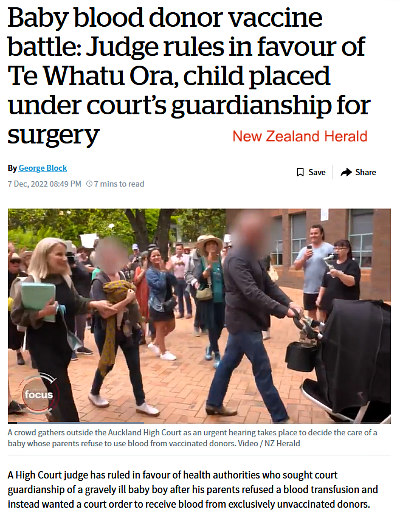 December 7, 2022: Read the New Zealand Herald article here.
---
NZ learns of the High Court decision on Baby Will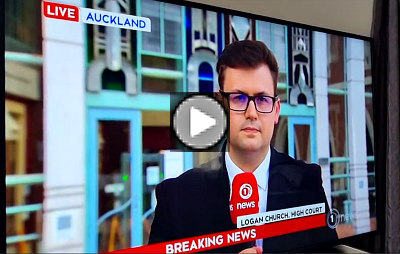 December 7, 2022: Click here for the 1News report at 6pm.
---
'Expert' Nikki Turner's vax misinformation exposed
December 5, 2022: From Voices for Freedom's Odysee channel.
---
Controversy: The case of Baby Will grips the nation
December 1, 2022: Couple vie with doctors at Starship Hospital.
---
New Zealand pharmacies still pushing the Kool-Aid
Nov 2022: Get boosted for a happy holiday of fun in the sun.
---
NZ freedom campers compared with Hitler Youth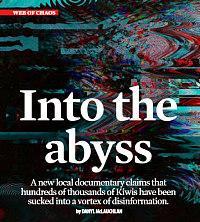 October 29, 2022: "They [contributors to the TVNZ documentary Web of Chaos] present a consensus that the Wellington occupation [of Parliament grounds in February 2022] was a manifestation of the online alt-right, a global confederacy of white supremacist groups linked to the Christchurch mosque massacres, the election of Donald Trump and the January 6 attack on the US Capitol. The film leans into this thesis, splicing images of Hitler Youth and the rise of fascism." The full New Zealand Listener article — an astonishing and deeply troubling inversion of reality — can be found here: Page 1, Page 2

---
PM Jacinda Ardern stars in vax hysteria video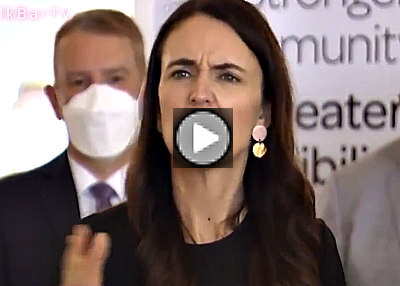 From MilkBarTV, via SGTnewsNetwork, 23.10.22. Click here.
---
How often is 'long Covid' actually vax damage?
Article from NZ Listener, October 15, 2022. Click here to read.
---

Advertisement: FTL is a one-of-a-kind FREE Manual Traffic Exchange. FTL has combined the effectiveness of Traffic Exchanges with the excitement of Lotto Games. As you are surfing, you will get to automatically play FREE lotto tickets. The more you surf, the more lotto tickets you can play. Lotto Drawings are held every Saturday, and the winning numbers are officially drawn by the Indiana Hoosier Pick 6/48. You only have to pick 2 or more numbers to win. If you pick all 6 numbers correctly, you will receive $600 in your Paypal account, 30000 Credits, 45000 Banner Impressions, and 45000 TextLink Impressions! Click here to sign up.
---
Gov't tinkers with science to distort information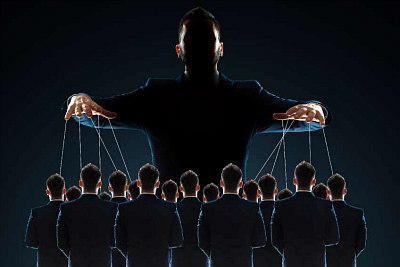 October 7, 2022: " . . . the design of scientific studies of Covid outcomes can be selectively adjusted in order to persuade people that all negative outcomes of the pandemic are due to Covid infection and nothing else." — Dr Guy Hatchard. Click here to read the article.
---
Gross fibrous 'clots' being found in NZ, too
Video from October 6, 2022. Shocking police actions exposed.
---
Remember how keen some were to get their shots?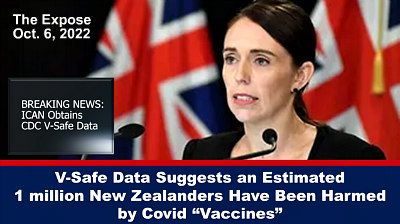 October 6, 2022: "Dr Guy Hatchard assesses what the v-safe evidence of high rates of vaccine harm means for New Zealand's reporting system Centre for Adverse Reactions Monitoring ('CARM') and how it can be used to determine the true number of Covid vaccine injuries in New Zealand. He goes on to explore what this means in the wider context of the 'pandemic' and the social compact — the implicit agreement between the governed and the government defining and limiting the rights and duties of each." Click to read the article here. Note: ICAN is the Informed Consent Action Network.
---
The fraud is fully revealed: This video is not specifically about New Zealand. It applies, to some degree, to all countries that resorted to what is universally known as the "Covid response".
---
Looks like it's time for some serious hand-wringing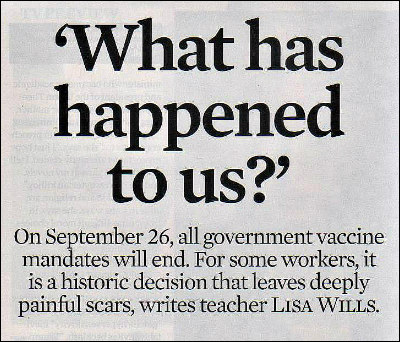 October 1-7, 2022: The New Zealand Listener now appears to be preparing us for an admission the entire "Covid response" was a monumental mistake — but one that actually makes perfect sense in the context of the globalist elite's all-out war against humanity. Click for Page 1, Page 2, Page 3, Page 4 of the article.

---
Sept 17, 2022: The case of vax victim Rory Nairn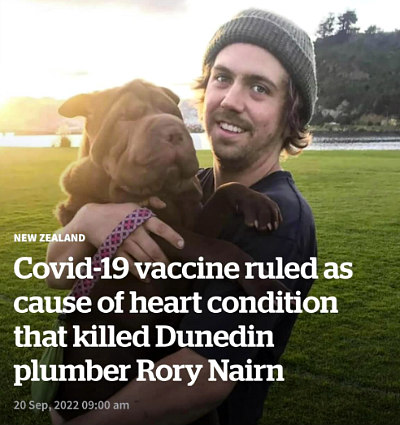 ---
Triple-vaxxed top the sick lists in New Zealand
Reply to request for info, August 25, 2022. Click to enlarge.
---
Freedom campaigners called 'pretty dangerous'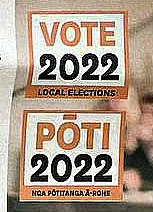 August 18, 2022: "Having all of those pretty dangerous people on board [as candidates] I think is a worrying development . . . we see a lot of anti-vaccination communication from them which is potentially life-threatening if people believe it." The full Horowhenue Mail article is here.

---
Hawke's Bay DHB gave $900k in vax incentives
Click the pic for the 17.08.22 article from the Hastings Leader.
---
Mothers and children queue for the death jab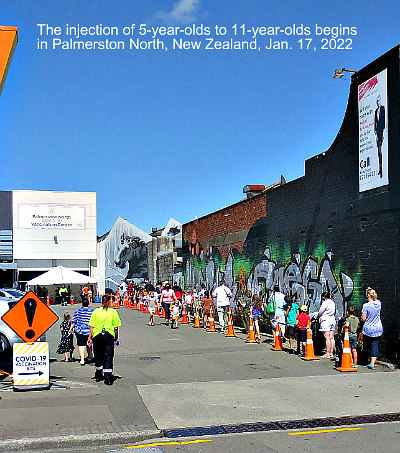 ---
From Sidon to Arish, alarums filled the land . . .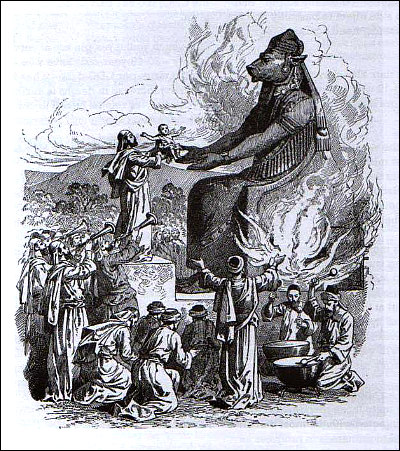 And lo! they took their children unto Moloch, that they might be saved. (From Bible Pictures and What They Teach Us, 1897.)
---
The 'Single Source of Truth' spells it out . . .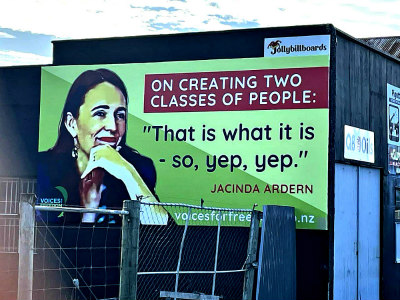 From January/February 2022, when the "vax pass" was required to enter many public premises in New Zealand.
---
Pfizer vax victim's appeal for funds called a scam
Picture from 17.12.21, when Casey Hodgkinson (left) was inter-
viewed with her mother Anna. Click for the Stuff headline. See also The Covid Blog article from November 3, 2021, here.
---
Vocal Covid dissenters diagnosed with ODD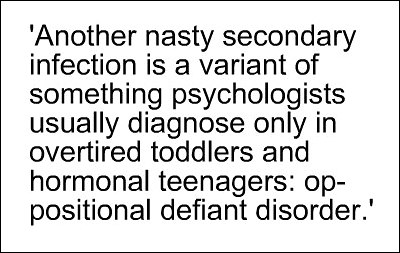 From Jane Clifton, October 30, 2021. Click pic for full extract.
---
Pop, what did you do in the Great Covid Pandemic?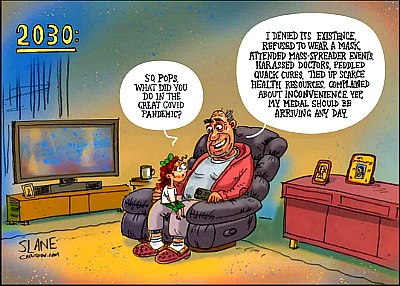 Cartoon from NZ Listener, October 30, 2021. Click to enlarge it.
---
Vax has 'no long-term side-effects', says Standard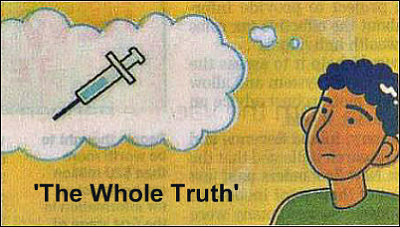 Click here for the article by Hannah Martin, October 22, 2021.
---
Patience with the Covid restrictions wears thin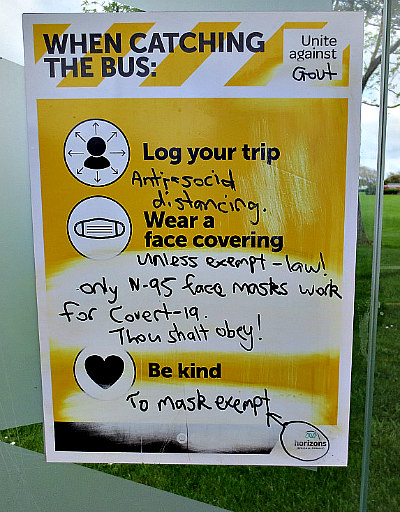 Gov't poster in a Palmerston North bus shelter, October 2021.
---
Remember the mad rush to get the 'vaccine'?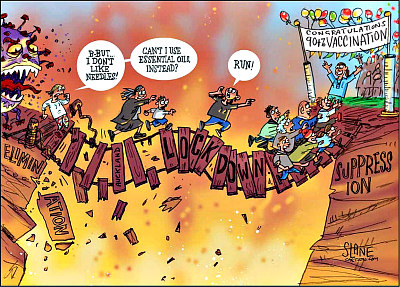 Listener cartoon from October 23, 2021. Click it to enlarge it.
---
Kiwi immunologist Kylie Quinn drinks the Kool-Aid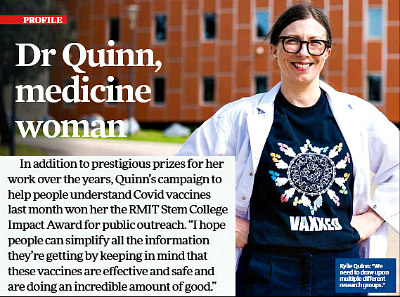 Extract from a Listener feature of October 23, 2021. Tell us about the "incredible" good that is done by the vax, Kylie.
---
Key 'shocked' to find golf buddies are sceptics
August 7, 2021: "We do have Covid sceptics. Former prime minister Sir John Key said he was shocked to find that some of his — presumably well-educated — golf buddies were among them. But, somehow, New Zealand has created a climate where it's such a social faux pas to have these views, people rarely seek to impose them on others." The full text of Jane Clifton's NZ Listener article: Page 1 and Page 2.

---
NZ Listener speciously touts the 'greater good'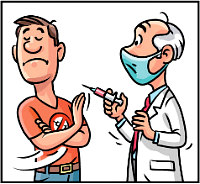 May 15, 2021: "The cut-through principle here is, how would the wilfully unvaccinated workers feel if they became infected? Or if they infected others, including loved ones? Or if others died or were left with debilitating 'long Covid' after-effects because of their vaccine refusal?" The full Listener editorial, which deserves some sort of prize for specious argument, is here.

---
Schwab's Great Reset called entirely benign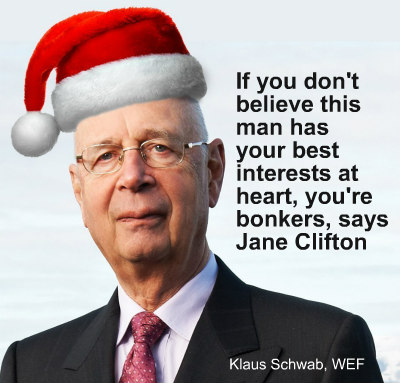 Listener article from 17.04.21 by Jane Clifton: Page 1, Page 2.
---
The devil's brood . . .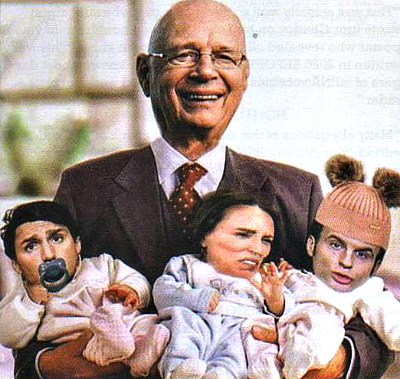 Cartoon taken from Issue 67 of Uncensored magazine. See Cindy and Herr Klaus in Phnom Penh, Cambodia, 2022.
---
Three cheers for Jacinda's 'Team of 5 Million'
April 17, 2021: "I think we are interacting in relationship terms much better as friends, neighbours and communities than we were before the pandemic. Some satellite images show real environmental benefits, especially during lockdown periods . . . " The full text of Bill Ralston's NZ Listener article can be found here.

---
Covid-19 'well under control', says NZ Listener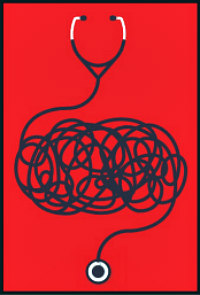 April 17, 2021: "Covid-19 is well under control, but emergency departments of three of our big hospitals, Middlemore, Dunedin and Whangarei, have this year reached critical capacity and have had to plead for patients to stay away or go to local GP clinics." The full NZ Listener editorial is here.


---
Vaccine can't come fast enough for NZ Listener
March 13, 2021: "More than a year after the coronavirus arrived here, the three key measures that will contain it are still subject to deliberate inertia. An automatic wearable contact tracing card, a same-day saliva test and a rapid vaccination programme offer our fastest runway out of rolling quarantine and global isolation." The full Listener editorial is here.

---
Mask, visor, surgical gown . . . all set for action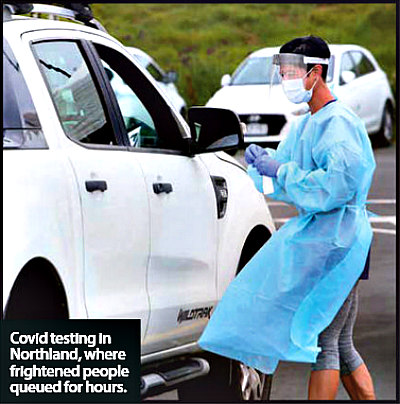 Editorial from NZ Listener, February 6, 2021. Click here to read.
---
All animals are hazardous: The stink over minks
November 21, 2020: ". . . the news isn't so crash-hot in the mustelid community, with 17 million Danish minks' future in question, the creatures having developed their own nasty variant of Sars-Cov-2. This opens up a whole new and troubling frontier on the world's navigation of pandemics." The full text of Jane Clifton's NZ Listener article: Page 1 and Page 2.

---
NZ Listener sees 'a shot of optimism' on horizon
November 21, 2020: "The recent announce-
ment from Pfizer and BioNTech that their trial vaccine could protect 90% of people from Covid-19 brought a shot of optimism at a time of increasing despair, with lockdowns re-enforced in Europe and record numbers of new cases in the US, and New Zealanders wondering whether border restrictions can be lifted in the not-too-distant future." The full Listener article is here: 1, 2, 3, 4, 5, 6, 7, 8, 9.

---
Promises are not things that really have to be kept
---
Valiant NZ slays the evil intruder – or does it?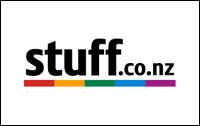 August 24, 2020: "Headlines around the world lauded New Zealand's fight against Covid-19 — dominated front pages and television screens — and it was a moment of pride for us all as the virus continued to spread across the world.". The Manawatu Standard article is here.
---
Before the panic peaked, Listener, March 14, 2020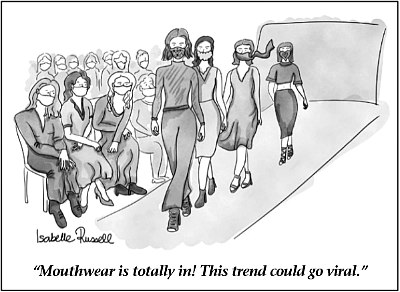 ---
The Covid-19 scamdemic reaches New Zealand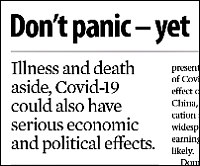 March 14, 2020: "Can we make it clear — this is not the apocalypse. It's a bad flu. If you are old and infirm or have respiratory or other health problems, it could be dangerous. But it is not Armageddon." So writes Bill Ralston in the Listener, expressing a viewpoint that, only a month or so later, would be regarded as heretical. Indeed, during the subsequent draconian lockdown, 'Covid Response Minister' Chris Hipkins theatrically described the disease as 'very, very deadly'." The article is here.
---
Vaxxer exults over another addition to schedule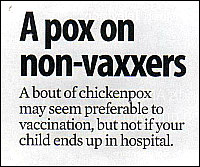 April 20, 2019: "[Vacci-
nologist Helen] Petousis-Harris is looking forward to seeing a big drop in the number of hospitalisations and deaths now that we've added chickenpox to our childhood immunisation schedule. In July 2017, children started receiving chickenpox vaccination at 15 months, along with measles, mumps, rubella (MMR) and several other vaccinations. The Listener article: Page 1, Page 2,.
---
'Benefits' of multiple jabs beyond question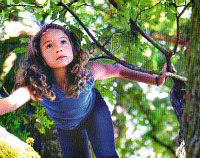 January 19, 2019: "We've rightly done much to protect children — free doctors' visits and vaccinations..." this Listener editorial says — turning a blind eye to the fact that "modern medicine" is, by most estimates, the third leading cause of death — and thus something we should be trying to shield our children from. Subject them to the full vaccination schedule, and they will almost certainly be chronically unwell. Hence the need for all those free doctors' visits. The editorial is here.
---
Multiple vaccines the elephant in the room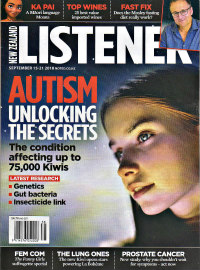 September 15, 2018: The New Zealand Listener proves, in its issue of September 15-21, 2018, that you can write a six-page cover story on the subject of autism without mentioning the words "vaccine" or "vaccination" once. Quite an achievement! Page 1. Page 2. Page 3. Page 4. Page 5. Page 6. Page 7. Remember to click on each image to enlarge it. That will make reading easier.
---
Shaken baby syndrome – or something else?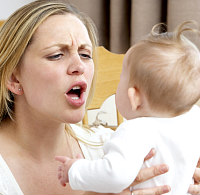 June 19, 2018: "Baby had 'abusive injury' " and "Newborn shaken, Crown says" are the headlines on these two articles from the Manawatu Standard. I regard both cases as somewhat suspicious. The key paragraph in Article No 2 is: "Until that night the father had been loving and caring, so he must have momentarily lost control and caused the injuries." In other words, physical violence is the only conceivable explanation for the child's injuries, and therefore the father — the only person present at the time — "must" be responsible for them. I would question this assumption, which seems to be standard in such cases. See also the 2014-15 case of Peter Moran, who allegedly hit a 2-year-old boy and caused "the [boy's] brain [to turn] into 'watery mush' before being reabsorbed". Really? I remain highly sceptical.
---
Vax: Standard floats the idea of compulsion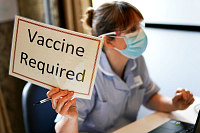 December 22, 2017: "Don't hesitate, vacci-
nate," says today's editorial in the Manawatu Standard. What it doesn't tell you is that the mumps component of the MMR vaccine is ineffective, and that most of the young adults contracting mumps are fully vaccinated. What it also doesn't tell you is that people of my generation all had mumps before puberty, when it is a trivial disease. We then acquired lifelong immunity.
---
Standard doctor repeats the lie about Wakefield
October 18, 2017: "In fact as recently as the 1990s there was a huge dropoff in numbers of children being vaccinated. This was in large part due to some very poorly designed research carried out in the UK that postulated a link between the [MMR] vaccine and the development of the autism spectrum disorder. This research has since been completely discredited by scientists, and the author of the original report, Andrew Wakefield, has been struck off the medical register." — Dr Cathy Stephenson, in the Manawatu Standard, October 17, 2017.
This is factually incorrect. "Postulated" means "to suggest a theory, idea, etc. as a basic principle from which a further idea is formed or developed" (Cambridge Dictionary). The "report" is actually a case series, in which the stories of 12 children are told. As Wakefield says in Callous Disregard: "The Lancet paper does exactly what is required of a case series. It states immediately what the report sets out to do: no particular developmental disorder was stated, no particular features or timing of onset were required, no particular initial exposure was necessary, no specific outcome was predicted, and no causal association was claimed."
---
Standard doctor pushes the killer vax Gardasil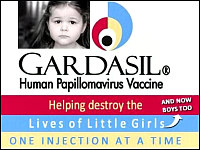 October 11, 2017: "The relatively new, safe and incredibly important Gardasil vaccine protects against nine strains of HPV, including those most likely to cause cervical cancer. The earlier you are vaccinated (ideally before you start having sex) the more protection you will get, and the lower your risk of developing cervical cancer later on. Gardasil is now free for boys, girls, men and women, up to 26 years of age, and people outside of this age range can choose to pay for it if they would like to be vaccinated." — Dr Cathy Stephenson, in the Manawatu Standard, October 10, 2017.
"...not only will the vaccine not work, but you increase your chances, by nearly 45 percent, of getting the very cancer you're trying to avoid if you've already been exposed to certain types of HPV!" — https://articles.mercola.com/sites/articles/archive/2010/07/20/does-gardasil-actually-increase-your-risk-of-cervical-cancer.aspx
---
Vaccines cartoon, Standard, July 7, 2017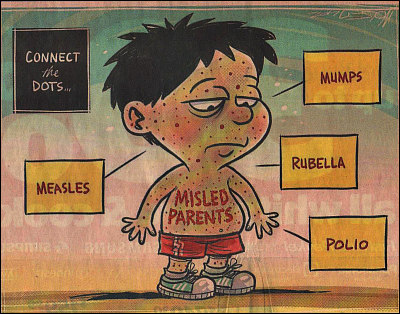 Uh, oh, here come the ubiquitous face masks . . .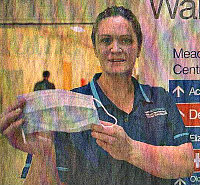 May 28, 2016: "Visitors to Waikato Hospital who have not had their flu jab will be met with blue masks. The new hardline stance, an extension of the staff policy which came into effect last flu season, will now make it mandatory for visitors to wear a mask if they have not been vaccinated against influenza." Read the Manawatu Standard article here.
---
Measles cartoon, Standard, May 23, 2016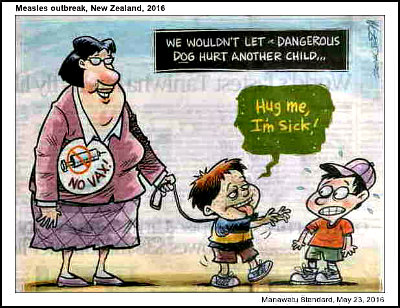 Childhood shots vital, says Manawatu Standard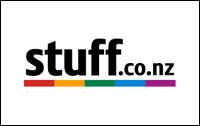 May 20, 2016: "Groups such as No Forced Vaccines rely on personal anecdotes for their fears and tout unproven alternative therapies such as intravenous Vitamin C. It's on thing to raise questions; it's another to try to argue without any foundation." Read the Standard editorial here.
---
A sign of the things to come in New Zealand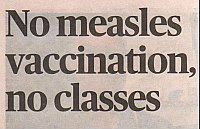 May 16, 2016: "Morrins-
ville parents are sup-
porting a decision by the Waikato medical officer of health to ban unvacci-
nated students and teachers from attending school after a measles scare at Morrinsville. The ruling comes after one of the school's pupils contracted the virus." Read the Manawatu Standard article here.
---
Red alert! Panic stations! Whooping cough is here!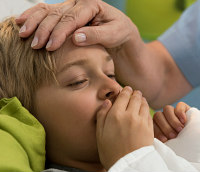 April 15, 2016: "The MidCentral District Health Board area could be in for another whooping cough epidemic following a spike in reported cases. Six cases have already bee reported in the district, which includes Manawatu, Horowhenua and Tararua, this year. There were 21 in total last year.." Read the Manawatu Standard article here. Image: integrisok.com
---
Mum pushes pertussis vax boosters for all adults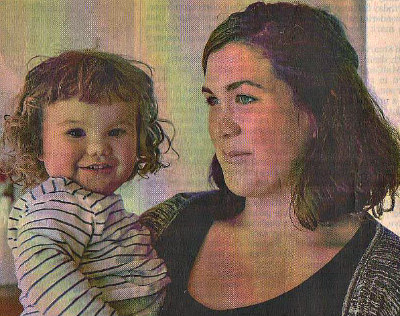 April 15, 2016: "I now think it's everybody's social responsibility . . . " says Liz McGimpsey. Click on the image to read article.
---
Antivaxxers like Flat-Earthers — Noni MacDonald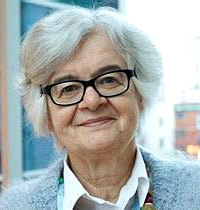 September 4, 2015: "A top doctor speaking at a national immunisation conference in Hamilton has likened parents who refuse to vaccinate their children to flat Earth advocates. The stark message from Dr Noni MacDonald, a Canadian leader in paediatric infectious diseases, comes as medics discussed 'vaccine hesi-
tancy'... " Read the Manawatu Standard article here.
---
'Miracle' of polio vaccination debunked
September 4, 2015: A vaccination debate with David Farrar of Kiwiblog. Click through to the page here.
---
Take the gloves off, says Manawatu Standard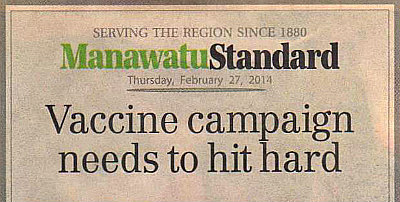 Editorial column from February 27, 2014. Click to read.
---